Classiques de l'épouvante (Les) - Les Morts-vivants + La Nuit de tous les mystères + Horror Hotel + La Nuit des...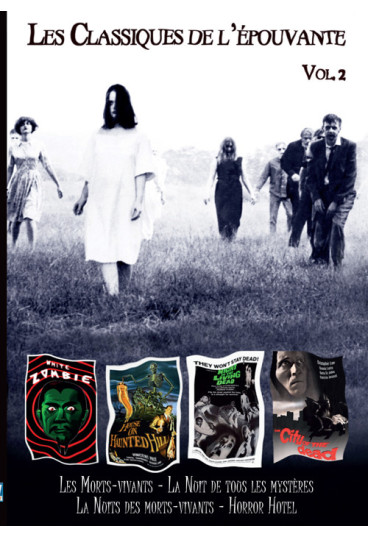 Classiques de l'épouvante (Les) - Les Morts-vivants + La Nuit de tous les mystères + Horror Hotel + La Nuit des...
- LES MORTS-VIVANTS (1932) : Considéré généralement comme le premier long-métrage de l'histoire du cinéma mettant en scène la figure du zombie, Les Morts-vivants (White Zombie) a été réalisé par Victor Halperin en 1932. Il bénéficie de la participation du très charismatique Bela Lugosi, ainsi que de la célèbre actrice américaine du cinéma muet Madge Bellamy. - LA NUIT DES TOUS LES MYSTERES (1959) : Dans cet indémodable film de fantômes, Vincent Price, dirigé par l'un des maîtres de l'épouvante, William Castle, joue un excentrique milliardaire dans l'un des rôles les plus marquants de son extraordinaire carrière. La présence de cet acteur permet ce parfait mélange, dont il avait le secret, entre ironie et grands frissons. De plus, pour les amateurs d'émotions fortes, William Castle avait fait appel à toute sa créativité macabre : pendant le visionnage de son film, les spectateurs étaient attaqués par un squelette en plastique attaché au plafond de la salle de cinéma. - HORROR HOTEL (1960) : Connu avant tout grâce à la réalisation de plusieurs épisodes pour la télévision, John Llewellyn Moxey réalise en 1960 le film Horror Hotel (The City of the Dead), que l'on connaît aussi sous le titre La Cité des morts. Ce thriller d'épouvante britannique aux ambiances macabres est notamment interprété par l'acteur Christopher Lee, célèbre surtout pour ses nombreuses interprétations légendaires du comte Dracula - dans les années 60-70 - et pour avoir incarné le perfide magicien Saroumane dans la trilogie du Seigneur des Anneaux. - LA NUIT DES MORTS-VIVANTS (1968) : George A. Romero réalise La Nuit des morts-vivants (Night of the Living Dead) en 1968. Le film, premier opus de la Saga des Zombies, marque un tournant décisif dans le genre du film d'horreur et signe le début de la carrière du cinéaste américain. Réalisé avec très peu de moyens, ce long-métrage est conçu non seulement comme un produit d'évasion pour le grand public mais aussi et surtout comme une oeuvre de dénonciation sociale autour des thèmes de la guerre du Vietnam, la circulation des armes et le racisme aux Etats-Unis.
By buying this product you can collect up to 9 loyalty points. Your cart will total 9 points that can be converted into a voucher of 1,80 €.