Les Pirates avec Dany Logan & Tony Morgan : L'intégrale (Collection Rock Français)
Sound samples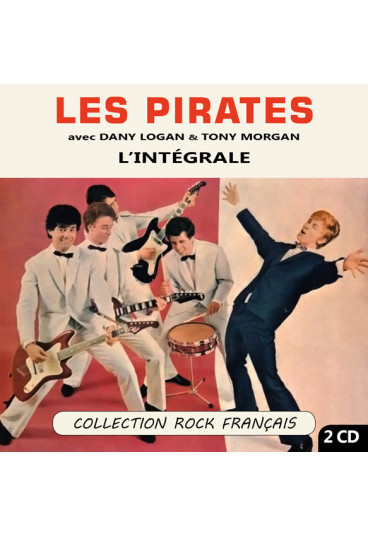 Les Pirates avec Dany Logan & Tony Morgan : L'intégrale (Collection Rock Français)
Le groupe Les pirates est composé de Dany Logan (chant), Jean-Pierre Malléjac (guitare solo), Jean-Pierre "Hector" Orfino (guitare rythmique), Jean Veidly (basse) et Michel Oks (batterie).

Le groupe apparaît en 1961, avec un premier EP 45T comprenant 4 titres, dont une adaptation du tube américain Hats Off To Larry de Del Shannon, intitulée en français : Oublie Larry. Sans atteindre la popularité des deux grands groupes de l'époque, Les Chaussettes Noires et Les Chats Sauvages, il connaît un assez bon succès national avec des disques enregistrés sous le label Bel-Air, lié à Barclay. Leurs premiers disques en 1961 ont un son très rock et puissant. Avec l'arrivée du twist en 1962, leurs interprétations s'assagissent, à grand renfort de saxophone, piano et choeurs féminins annonçant l'époque Yéyé. Ils produisent toutefois quelques titres brillants (Dany) et enlevés (Caroline, Entre toi et moi ...).

Ils se produisent pour la première fois sur scène le 14 juillet 1961 à la Garenne-Colombes et sont très vite reconnu comme le troisième groupe de rock français par les jeunes, le quatrième étant le sérieux concurrent groupe de rock, Les Vautours, avec Vic Laurens à leur tête. On peut les voir au Golf Drouot, à l'ABC et passent en vedettes à l'Olympia (avec la chanteuse Gelou en première partie).

Début 1963, Jean-Pierre Malléjac est remplacé à la guitare par Robert Grospeigne (dit Gretsh). Claude Ciari des Champions assure également quelques remplacements sur scène. Le 3 mars Dany Logan quitte le groupe pour entamer une carrière solo de très courte durée (1963-1964). Il est remplacé, brièvement, pour quelques galas par un jeune chanteur anglais, Tony Victor, puis par Tony Morgan (Jean-Pierre Gruszka, introduit dans le groupe par Michel Oks) avec lequel la formation (alors recomposée de Michel Oks, Jean Veidly, Jean-Pierre Orfino et Jean-Louis Licard) enregistre en mai un unique EP 45 tours qui sort en juin 1963. Le style de ce dernier 45 tours, assez décontracté et déconcertant, ne rencontre pas un grand succès. Début 1964, rattrapé par l'Armée et le début de la vague du Rock Britannique, le groupe se sépare. L'épopée des Pirates s'achève là.

Retrouvez sur ce double CD l'intégrale du groupe avec les deux chanteurs Dany Logan & Tony Morgan !
By buying this product you can collect up to 8 loyalty points. Your cart will total 8 points that can be converted into a voucher of 1,60 €.