Bouton Rouge - Le premier magazine TV français consacré au Rock !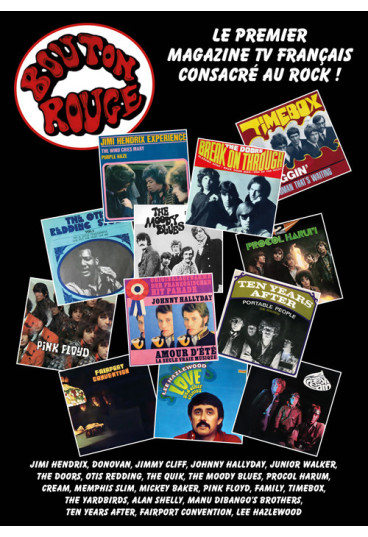 Bouton Rouge - Le premier magazine TV français consacré au Rock !
L'émission Bouton rouge est diffusée sur la 2ème chaîne entre le 16 avril 1967 et le 18 mai 1968. C'est le premier magazine consacré au rock à la télévision française. Il est présenté le plus souvent par Pierre Lattès. L'émission vise les 15-25 ans par une programmation musicale qui se veut plus en phase avec les goûts de la jeunesse, en particulier en invitant en plateau des groupes anglais ou américains ou en diffusant des reportages et des extraits de concert. Quelques artistes français comme France Gall et Johnny Hallyday ont aussi les honneurs de l'émission. Composée initialement d'une série de reportages et de séquences musicales pré-enregistrées, la formule évolue vers une partie plateau. L'émission présente entre autres The Moody Blues, Procol Harum, Cream, Jimi Hendrix, Pink Floyd, Otis Redding, Jimmy Cliff, The Doors, The Yardbirds, Ten Years After et Fairport Convention. DVD 1 01. Générique de Bouton Rouge 02. Purple haze (Jimi Hendrix) 03. Wild thing (Jimi Hendrix) 04. Sand and foam (Mexico) (Donovan) 05. Sweet beverly (Donovan) 06. Hey gyp (dig the slowness) (Donovan) 07. Guinevere (Donovan) 08. The tinker and the crab (Donovan) 09. Season of the witch (Donovan) 10. When a man loves a woman (Jimmy Cliff) 11. Give and take (Jimmy Cliff) 12. La seule vraie musique (Johnny Hallyday) 13. Lucille (Johnny Hallyday) 14. Junior Walker Live à Londres 15. How sweet it is (to be loved by you) (Junior Walker) 16. Break on through (The Doors) 17. Satisfaction (Otis Redding) 18. Try a little tenderness (Otis Redding) 19. Stand by me (The Quik) 20. Nights in white satin (The Moody Blues) 21. Tuesday afternoon (The Moody Blues) 22. Peak hour (The Moody Blues) 23. Homburg (Procol Harum) 24. Conquistado (Procol Harum) 25. Spoonful (Cream) DVD 2 01. Rockin' the house (Memphis Slim and Mickey Baker) 02. The animal in me (Memphis Slim and Mickey Baker) 03. I'm lost without you (Memphis Slim and Mickey Baker) 04. Astronomy domine (Pink Floyd) 05. Flaming (Pink Floyd) 06. Set the controls for the heart of the sun (Pink Floyd) 07. Let there be more light (Pink Floyd) 08. Me My Friend (Family) 09. Beggin (Timebox) 10. I hold no grudge (Timebox) 11. Come on up (Timebox) 12. The train kept a-rollin' (The Yardbirds) 13. Dazed and confused (The Yardbirds) 14. Goodnight sweet Josephine (The Yardbirds) 15. I've been loving you too long (Alan Shelly and Manu Dibango's Brothers) 16. Lady black wife (Alan Shelly and Manu Dibango's Brothers) 17. Rock your mama (Ten Years After) 18. Hear me calling (Ten Years After) 19. I may be wrong, but i won't be wrong always (Ten Years After) 20. Portable people (Ten Years After) 21. Morning glory (Fairport Convention) 22. Time will show the wiser (Fairport Convention) 23. Reno, nevada (Fairport Convention) 24. She comes running (Lee Hazlewood) 25. The house song (Lee Hazlewood)
By buying this product you can collect up to 11 loyalty points. Your cart will total 11 points that can be converted into a voucher of 2,20 €.