Les Lionceaux revival - 1961-2011, 50 ans, la légende des sixties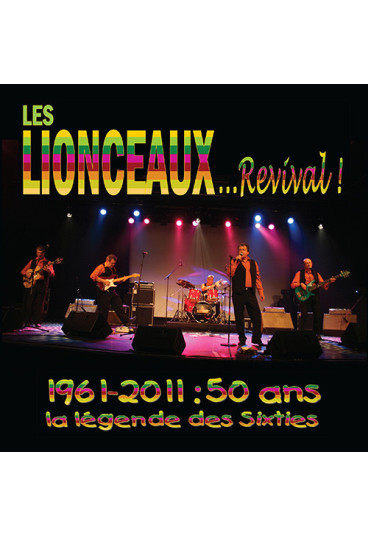 Les Lionceaux revival - 1961-2011, 50 ans, la légende des sixties
Le groupe de rock "?Les Lionceaux?" est né à Reims en 1961. Le Golf Drouot en 1962, l'émission d'Albert Raisner "?Âge Tendre et Tête de bois?" en 1963, puis des disques chouchous de la célèbre émission "?Salut les copains?" comme Quatre garçons dans le vent, Je te veux tout à moi, ou Je ne peux l'acheter, autant de titres adaptés des Beatles qui ont fait des Lionceaux l'un des groupes mythiques des années 60.

Treize Lionceaux, dont Herbert Léonard, se sont succédés jusqu'à la séparation du groupe fin 1966, et c'est à l'occasion de la sortie du livre que leur a consacré Alain Dumont, le premier chanteur du groupe (en 1962 et 1963), que les Lionceaux se sont retrouvés avec l'envie de recommencer?! Depuis, les concerts se succèdent, et deux albums ainsi qu'un single ont été édités sous le label "?Les Lionceaux Revival?".

Alors que Les Lionceaux fêtent cette année leur 50e anniversaire, cette compilation issue du vinyle permet de revisiter l'histoire du groupe en musique??: une première partie qui correspond à la période 61-63 avec le célébrissime Apache, des adaptations de Cliff Richard, l'instrumental Spotnick's Theme qui a permis aux Lionceaux de gagner à trois reprises la coupe "?Âge Tendre?", et leurs premiers enregistrements chez Mercury. La deuxième partie reprend cinq adaptations des Beatles (dont quatre succès des Lionceaux en 1964) puis des reprises plus rock'n'country ainsi que Matin de chien, la première composition originale du groupe signée Pierre Pamart et Roger Soly pour la musique, et Alain Dumont pour les paroles.
By buying this product you can collect up to 6 loyalty points. Your cart will total 6 points that can be converted into a voucher of 1,20 €.