A world of rock'n'roll, the original version : Peggy Sue
Sound samples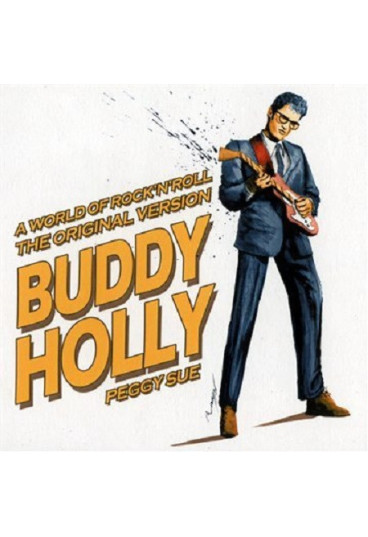 A world of rock'n'roll, the original version : Peggy Sue
Lors d'un concours de jeunes talents, au milieu des années 1950, un nouvel artiste était découvert : Charles Hardin Holley, que vous connaissez sûrement mieux sous le nom de Buddy Holly. Mais celui-ci n'a pas connu - et ne recherchait pas - un succès immédiat, comme Elvis Presley. Car pour Buddy Holly, chanter sur des rythmes connus n'était pas satisfaisant. Il voulait créer un nouveau son.

Pour Buddy Holly, la gloire est venue avec le tube "That'll be the day", qui l'a hissé en tête des hit-parades, et qui a lancé la Buddy-Holly-mania. D'autres chansons ont suivi, comme "Peggy Sue", "Oh Boy", "Rave on", et plein d'autres titres encore. Buddy Holly, accompagné de son groupe "The Crickets" et de son producteur Norman Petty, avait trouvé une nouvelle forme d'expression musicale, qu'il appela le "rock-a-billy".

Buddy Holly était une légende de son temps. Il avait donné au rock'n'roll un nouvel élan et inspiré de nombreux groupes et chanteurs. Après avoir conquis les Etats-Unis, sa musique est devenue très populaire en Angleterre, et on constate sans surprise que beaucoup de groupes qui devinrent célèbres dans les années 1960, jouaient ses chansons. Même les Beatles ont enregistré certains de ces morceaux, et ce ne sont pas les seuls, loin de là.

C'est pourquoi sa mort lors d'un crash aérien en février 1959 a profondément choqué ses fans. Son dernier enregistrement, "It doesn't matter any more", est aussitôt arrivé en tête de tous les hit-parades et c'est probablement la meilleure preuve du lien puissant qui existait entre lui, ses fans et sa musique.

Depuis, les années ont passé, mais les chansons de Buddy Holly restent tout aussi fascinantes. La génération qui a suivi était elle aussi inspirée par le rock. Pourtant, malgré le talent de groupes comme Crosby, Stills, Nash and Young, Led Zeppelin et autres, il ne faut pas oublier que Buddy Holly et son rock-a-billy sont à l'origine cette musique. Cet album est là pour vous aider à comprendre le chanteur et le compositeur.
By buying this product you can collect up to 3 loyalty points. Your cart will total 3 points that can be converted into a voucher of 0,60 €.